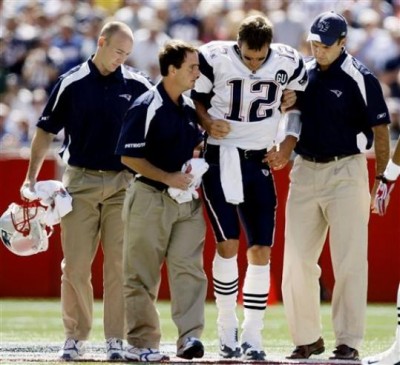 Eight minutes into this NFL season everything changed. When Pollard's body hit into Tom Brady's left knee and tore his ACL and MCL the whole NFL was turned upside down. The NFL lost one of its biggest stars and one of its ratings makers.
This has opened up the AFC East for a free for all. Going into the 2008 season- there was no chance that any of the other three teams could win the division but now they all have hope. The Buffalo Bills and New York Jets have a great shot at stealing the division and since this is the NFL anything can happen and the Dolphins have some hope now too.
The Bills looked the best in week one, completly dominating the hapless Seahawks. But the Jets have Bret Favre and this gives them the best qb in the division and the best leader to try to get to the playoffs. He helps improve the running game as Thomas Jones already equaled last season's touchdown output in the first game.
This is not to say the Jets will definetly capture the East. It just says they have a thousand times better chance to do so now that Brady is out for the year. Would the feeling be so good if Chad Penningtons pass was a touchdown and not an interception with five seconds to go?Probably not but that didn't happen and a win is a win. The Jets have a chance to be 2-0, a very good chance.
I am also not saying the Patriots will be pushovers. They are still the team I would expect to see win the division. Matt Cassell may have not started a game since high school but the Pats still have a great defense and plenty of offensive weapons. They should still win 9 or 10 games this year with the defense and talent they have.
This Sunday's game will tell a lot. If the Jets don't win at home versus a Tom Bradyless Pat's team it will show their fans and them that they are still not on the same level. Even with all the changes and bringing in Brett Favre. We will learn a lot about the Jets, a win can energize the team and fanbase even more and show them that this injury has brought the Pats to their level. Look for the Jets to pull out a close one as Matt Cassell can't pull off the heroics that Tom Brady could.