So we sit here on the first off day of this seven game series all tied up at one game apiece and heading to Philadelphia. The next three games will be at beautfiul Citizens Bank Ballpark and the Phillies have two major tasks in front of them: 1) Find a way to win a game that Cole Hamels doesn't start 2) Find a way to score a RISP.
1) It doesn't take a genious to figure out that the Phillies need to find out a way to win a game in this series that ace Cole Hamels doesn't pitch. Hamels has risen has game to another level and is having a postseason for the ages. He has a chance to be the first starter to win 5 games (Randy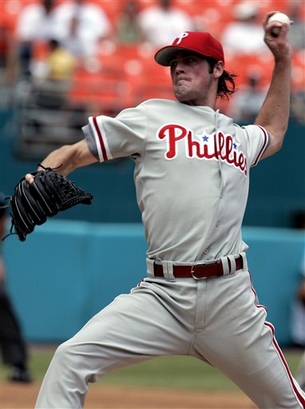 Johnson won 5 but one was in relief and Fransisco Rodriguez won 5 all in relief.) We know the Phillies will win the Hamels starts but can they win a game he doesn't pitch. The weather sounds like it might help the Phillies and let Hamels pitch game 4 on Monday instead of game 5. If this happens he could come back on short rest and pitch game 7. But that would leave the Phillies needed either Jamie Moyer or Joe Blanton to step up and win a game. The pitching matchups the next two games favor the Rays as we saw what Matt Garza is made up in his ALCS game 7 start and Andy Sonnastine in game 4 is an underrated pitcher who stifled the Red Sox for 7+ innings.
2) I had put the memories of the Yankees awdful hitting w RISP for the 2008 season out of my mind until the Phillies decided to remind me of how bad they were. Until the late innings last night the only hit the Phillies in the first 17+ innings of this World Series they had one hit with RISP and it didn't even score a run. When did Bobby Abreu, Alex Rodriguez, and Jason Giambi enter this World Series. If the Phillies had maybe 4 hits with RISP they could be up 2-0. Ryan Howard looked like he might be breaking out of it ( its hard to believe the Phillies made the WS with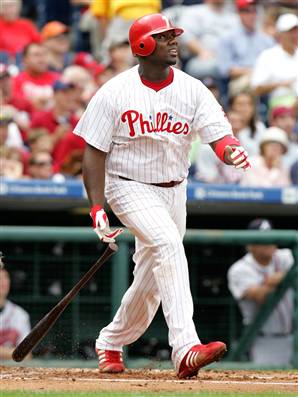 Howard having a total of 3 RBI's in the whole postseason.) The bad play of Howard has overshadowed catalyst Jimmy Rollins and his putrid play. I would like to see Charley Manuel go for the offense and put Matt Stairs in right field as Jason Werth has been Werthless in this series. Why he didn't use Stairs in game 2 as a pinch hitter in the 6th will always baffle me. Maybe once the Phillies get some cheesesteaks from Pat's in their system it will invigorate them to win this series.
Yes this post was very slanted towards what the Phillies need to do to win this series but that is because they have struggled more then the Rays. The Rays have the pitching matchups in their favor and they did what they needed to do and win one of two at home. They lost the first game vs. Boston and came back to win the series (and should have won in 5.) The same could happen here as Evan Longoria and BJ Upton take aim at the short porch in Citizens Bank Park. I think if the Rays play their game and only lose the Hamels starts they will win this series easily.