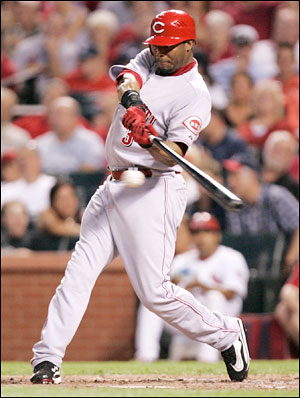 The crazyness has begun and we will attempt to keep you updated throughout the day.
10:45-
Ken Griffey Jr
has been asked to waive his no trade clause as the Reds and White Sox have a trade inprinciple. Lets see what he decides
11:15: Marlins have acquired...... lefty Arthur Rhodes.
11:45-
Griffey
has accepted the trade he is on his way to the Whitesox. How this will play is unseen as they have a lot of corner outfielders, infielders, and dh's (Dye, Quentin, Konerko, Thome) Is he going back to CF? This might be Juniors last chance at a ring. The Reds will get infiedler Danny Richar and Nick Masset.
2:00 - It Sounds like the Manny Ramirez deal is dead. With two hours left to revive it we will see what happens. Manny has told the Red Sox he will accept a trade.